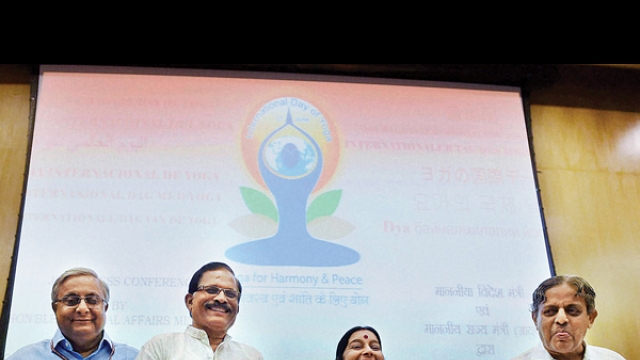 'The objections are based on a misunderstanding of what yoga is'
Is yoga a Hindu religious practice? The All India Muslim Personal Law Board (AIMPLB) may think so but for scores of Muslims who practise yoga, there is no contradiction between what they do and the teachings of Islam.
"The objections are based on a misunderstanding of what yoga is," says Dr Badrul Islam, who has been practising yoga for the past 35 years and has also written a handbook in Urdu on the subject. Islam is a yoga instructor with the Kendriya Vidyalaya Sangathan and also runs a training centre near Delhi's Muslim-dominated locality of Jamia Nagar, where he claims to have taught thousands of youngsters.
"Yoga is a clean thing, it helps you to connect with yourself, keeps you alert, smart and fit. As for surya namaskar, Islam enjoins you not to bow in front of anyone but Allah, so don't turn to the sun when doing it. Think of it as a form of exercise," says Islam, who is also a member of the NCERT editorial board that developed a curriculum for yoga in schools. Prime Minister Narendra Modi is expected to release the two books – one for class VI to VII and the other for class IX and X -- that Islam has helped write on June 21, International Yoga Day.
"Politicians are trying to give Yoga a Hindu colour. It is a means of keeping fit and only a fit nation can be a healthy and strong nation," says Asad Gazi, president of the Nawa-e-Haque welfare association which works to spread education among the Muslim community. Early this year Gazi wrote to the HRD ministry appealing that yoga teachers be appointed in schools.
Imran Khan, who learnt yoga at the Sivananda ashram in Kerala and has been teaching yoga for the past 13 years, says he sees no problems with his faith in practising yoga. "My family, too, has never said anything," says Khan, who has taught many women too. "I once taught a group of women in purdah. I was instructing the entire family and the men were in front while the women were behind a wooden partition!"
The AIMPLB's strictures against surya namaskar is not the first time the issue has come up – though yoga is popular in Islamic countries like Iran, in others like Indonesia and Malaysia it is banned. And though the Pakistan government has denied a visa to two Indian yoga instructors, the country has several practitioners who teach yoga as a fitness programme. Within India, too, the leaders of the community have vacillated on their stand – the current ruling of the AIMPLB contradicts what Darul Uloom had said in 2008, that Muslims could practise yoga for health reasons.